General membership meeting this Thursday April 5th.  Dinner at 

6:30

, Meeting at 

7:00

.  First Choice BBQ, 712 S. Collins St., Plant City.  Please try to attend as we have a lot of events to finalize, new events to plan, and summer activities to announce.   
Your Board and Officers met last Thursday.  Highlights from that meeting will be presented 

this Thursday

.  In attendance were:  Brad W, Brad S, Phil Griner, Dana W, Danny Brantley, Randy Dowd, Randy & Debra Woodall, Morrison Pryor, Jerry Bridges, Wayne Bradbury, Steve Boser.  Capt. Markett & Brian Krug had called earlier in the week that they would not make it. 
Frog Legs needed for VETERANS—Barrett Chandley and Family at Grape Hammock are hosting a Veterans Fishing event 
5/19/2018
.  We need frog legs!!   Last year when the Chandley's reached out club members donated an amazing 15lbs of frog legs.  Much like this organization, Grape Hammock's events are increasing.  We need 15-20 pounds of frog legs as part of a fish/frog leg/gator/etc., cook out for these Veterans after their day on the water.  Please either "reply all" or call Barrett Chandley at 863.528.1547.  The Grape Hammock Family have always been large supporters of 
KRVSA
 and this club certainly loves and appreciates our Veterans.  This is a perfect match.  We need frog legs to Barrett by 5/17.  Please consider jumping in and making this another special event for these amazing Veterans who offered to give it all……..Thanks to the Chandley Family for supporting the Toby Pope Fund Raiser.  Grape Hammock donated a free cabin weekend to raffle off in order for 
KRVSA
 to construct something in Toby's memory.
Raffle Boat–Great looking boat.  Thank you to the Boser Family and Sensenich for taking the boat to West Palm.  Thank you to Terry & April Farkus for taking the boat to Broward.  And recently the boat went to The Tampa Boat show–thank you to Loadmaster Custom Trailers, Randy/Jenny Dowd, Pat/Patricia Cochran, Randy/Debra Woodall, Jerry Bridges.  This is a club fund raiser.  Please consider hosting the boat at an event.  Wayne Bradbury has the event schedule.  (wayne@dixiejet.net)  We have events that need hosts, flyers, business cards, and tickets.  There are multiple ways for everyone to get involved.  Donnie Harp has singly sold over $700 by himself by just carrying tickets around in his console.  We need every member to make this work out as we have A LOT of money on the line here. 
Toby Pope & Leroy Knowles Donations–There memorials are almost wrapped up.  As most know, the Knowles and Pope families each suffered a loss recently.  The families supported donations to 

KRVSA

 in lieu of flowers or memorials.  At the April meeting the Board discussed ideas on how to best use these gifts to better the KCOL.  If you would like to participate in the planning, please see a Board member this week.  All the pledged funds will be collected by the 

April 26th

 Board Meeting.  The decision on what to do–will be made at the 4/26 Board Meeting.  We will meet at 

7PM

 at Dixie Jet in Lakeland.  Item #1 on the agenda will be this topic.  If you plan to present an idea please get with Brad W prior to the 4/26 meeting so we can allot enough time for everyone.  The general plan on how to invest these funds will be submitted to membership at the 

5/3/2018

 general meeting. 
FR 2019-Planned February 15, 16, 17 2019.  Book your rooms now.  Camp Mack is filling up all ready. 
Memberships-  It is renewal time.  PLEASE, this is about retention and your support to this organization.  This size organization must have active membership to continue at this level.  We are trend setters in the sportsman community.  You can renew easily at   www.

krvsa

.com.  Click the membership icon and fill in the blanks.  Your membership card and decal will be mailed back to you.  Membership reminders will also go out in the mail in the next week. 
FAA Quarterly Meeting–The FAA quarterly is 

this Saturday

.  Members are encouraged to attend.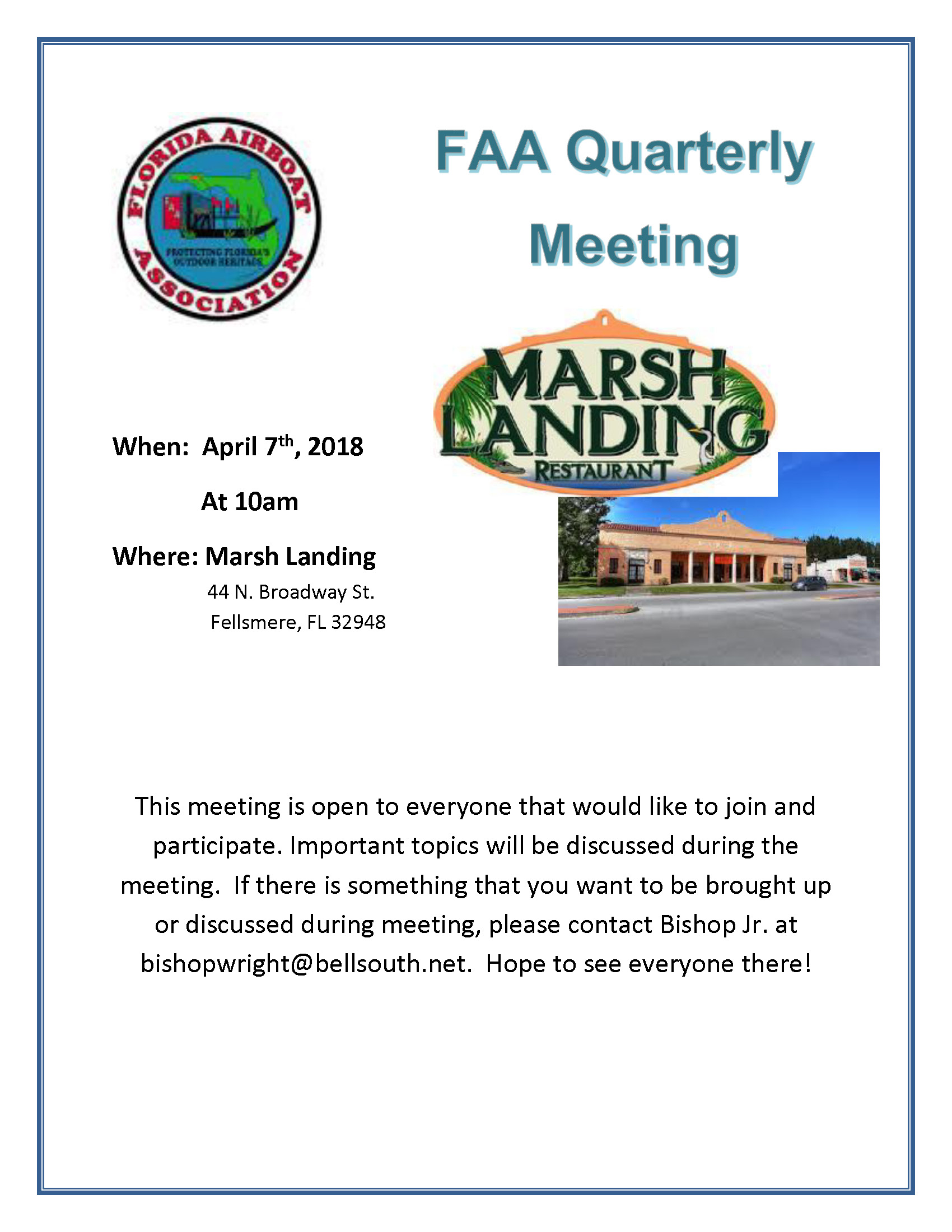 FAA Unity Weekend– This event is July 13,14,15, 2018.  Okeechobee KOA.  Airboat ride during the day.  Dinner, awards, and a great evening 

on Saturday

.  

KRVSA

 has a table.  Seats are limited.  Please call Danny Brantley 863.632.0618 if you like to sit at the club table.  This is always a great evening and helps raise funds for the Florida Airboat Association. 
Airboaters for Autism—April 14, 2018 at Coleman Landing at Shady Oaks.–More information to follow.  Please come out and support this fund raiser for autism.  Reserve the date.  There will be a lot going on at Shady Oaks that day.  Another fine example of Polk County Parks & Rec coming together with the airboat community.  If you remember a few years back KRVSA held our trash clean up at this facility.  KRVSA and several members are the reason this park exists.  Come out and embrace the autism community.  If you don't know the Shady Oaks story: ask a Board member, it is pretty cool 
3/24/2018 Toby Pope FundRaiser-This event was amazing.  We will have an update 

this Thursday

 with general projections on the budget available for KCOL improvements.   
R3 Fun Shoot 5/19-Indian River Public Shooting Sports Park.  Sebastian, Fl. This is the shoot/fund raiser mentioned in the email geared specifically toward R3.  Brad W has all the information, sits on that committee to represent

KRVSA

, and will be attending.  Any questions–please ask, email, call, etc….. We need to show support and attend.  Remember—-We are hosting one of the three shoots.  We want people to come to ours, we need to support the one they host also.  Rooms at Hirams are booking quickly.  We need to solidify some shooting teams this month and get out reservations in for the shoot.  IF you are even considering going, please see Brad W at the meeting (or call me).  There are lots of "families" going and certainly things to do with other members if you do not shoot and just want to relax at the resort. 
Peace River Airboat & Sportsman Assoc–The Peace River Club is hosting a Clean up on 

June 2nd

 from 7-3. You can get more information and RSVP with Steve Eggers, club Pres,   eggman35@gmail.com.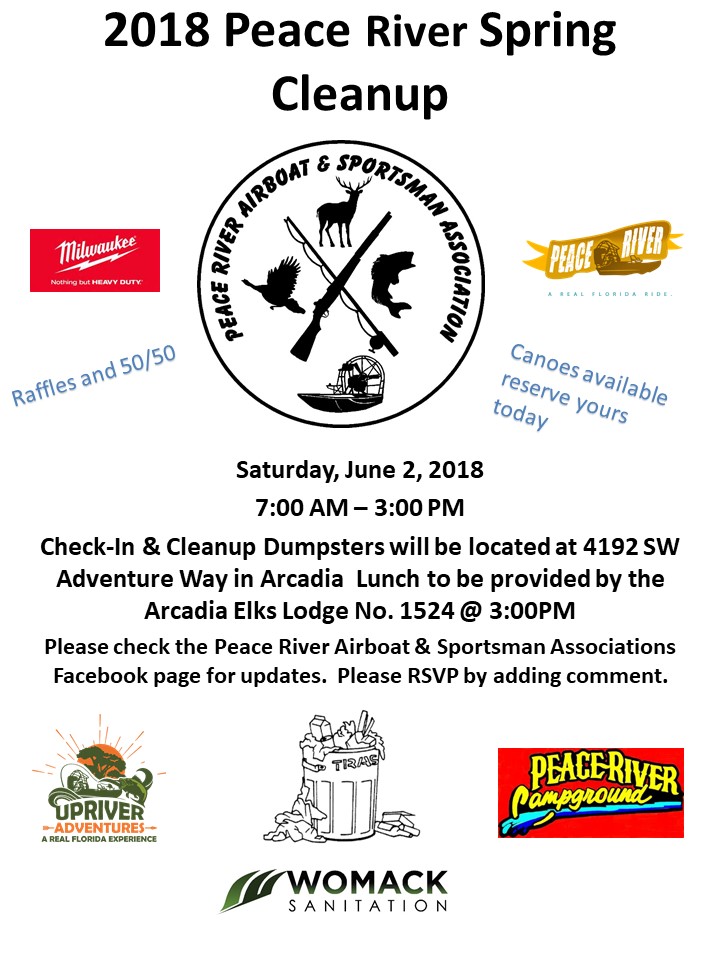 FAA Tour Boat Bill–This bill was signed in to law by Gov. Scott and commonly referred to as "Ellie's Law".  We will update at the meeting.
Summer Splash– Dates have been chosen and will be announced at this meeting.